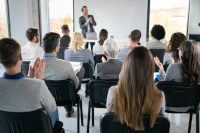 Overview
This real world, practical 3-hour seminar is designed to provide an understanding of bar code quality specifications, bar code print quality and how it applies to the printing industry, and implications of low quality bar codes. The attendee will walk away with a solid understanding of the causes of bar code failures and more importantly how to fix these problems. Whether your company is ISO certified or not, this seminar will give you the tools to improve your internal quality process. It was developed for a wide range of employees from Press Operators to Quality/ISO Managers to Plant Managers.
Many customers choose to add this seminar to our new DataBar (formally RSS) Bar Code seminar. Individually each seminar is $99, but by combining the two seminars the cost is only $150.
Attendee Comments:
"Good mix of basic info and troubleshooting ideas. I plan to recommend an on-site seminar with my workgroup."
"I'm glad we had this seminar in house so that we could gear our questions to our issues"
"Content covered is from ground level understanding on up"
"Very infomative" + "Give + Go, Short and to the point"
"Anyone who needs a general overview of the subject of barcodes should attend this. It's not over your head type of info. It's really good for the average person."
Topics & Demonstrations Covered
Part 1
General bar code information
History of Bar Code Verification
Descriptions of bar code verifier tests
Calculating bar code grades
Choosing the correct aperture
Part 2
Who needs verification
Retailer penalty policies
Developing a quality control policy
Servicing your bar code verifier
Operating a bar code verifier
Bar code troubleshooting
Cost
$99.00 per person with a Eight (8) person minimum
Notes:

One complimentary pass for companies who have spent $500 or more in the previous 12 months
Standard travel costs and lodging expenses are not included in the fee (billed at cost)
Fee includes Presentation binder, Layman's press operator troubleshooting guide, and certificate of completion
More Information
If you would like to schedule a seminar at your location or have any questions please contact us at 866-828-8643 or email.