Databar (formally RSS) Bar Code Seminar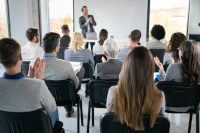 Overview
This practical 1.5-hour seminar is designed to provide an understanding of DataBar (formally RSS) bar codes. The seminar is focused on explaining the many different types of DataBar Bar Codes and where each is used. This includes usage in various levels of packaging (pallet, carton, container, and product) in the retail supply chain and pharmaceutical requirements (including FDA part 21).
Many customers choose to add this seminar to our standard Bar Code Quality seminar. Individually each seminar is $75, but by combining the two seminars the cost is only $100.
This seminar was developed for a wide range of employees from Pre-press Staff to Press Operators to Quality/ISO Managers to Plant Managers.
Topics & Demonstrations Covered
Part 1
GS1 Databar (formally RSS) general history
Why choose DataBar
Types of DataBar symbologies
Information encoded in DataBar bar codes
Global Trade Item Numbers (GTIN)
Application Identifiers
National Drug Code – Single item
National Drug Code – Single item with application identifiers
GTIN packaging indicators
Part 2
Health Industry recommendations – NCC MERP
Health Industry recommendations – HIBCC
Summary of FDA Requirements
FDA 21 CFR 201
FDA 21 CFR 210
FDA 21 CFR 211
FDA 21 CFR 606
FDA 21 CFR 610
Cost
$75.00 per person with a Eight (8) person minimum
Notes:

One complimentary pass for companies who have spent $500 or more in the previous 12 months
Standard travel costs and lodging expenses are not included in the fee (billed at cost)
Fee includes Presentation binder and certificate of completion
More Information
If you would like to schedule a seminar at your location or have any questions please contact us at 866-828-8643 or email.