Auto ID Solutions has a complete offering of services ALL focused on bar codes and bar code quality
Bar Code Verifier: Repair, Calibration, and Re-certification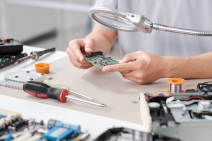 Service is considered the most crucial part of our company. We have developed a sophisticated process to allow us to offer the best service in the industry at the lowest cost.
With ALL services you will receive:
Your unit adjusted and re-certified to meet conformance of ISO15426-1/-2 (Bar code verifier conformance standard)
Returned with NIST traceable calibration plaque
Three page detailed Certificate of Calibration written to comply with ISO9000, QS900, and GMP quality systems
During 2005, 76% of the bar code verifiers sent in for annual service were out of tolerance, most were reporting lower grades than they should but 8% reported better grades. Neither is good. If a bar code verifier is overly critical this means that printers are producing extra scrap at a time when raw materials are more expensive than ever. Conversely, if the verifier gives passing grades when it shouldn't, companies are exposed to receiving huge fines or penalties.
Bar Code Quality Seminar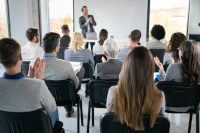 This real world, practical 3-hour seminar is designed to provide an understanding of bar code quality specifications, bar code print quality and how it applies to the printing industry, and implications of low quality bar codes. The attendee will walk away with a solid understanding of the causes of bar code failures and more importantly how to fix these problems. Whether your company is ISO certified or not, this seminar will give you the tools to improve your internal quality process. It was developed for a wide range of employees from Press Operators to Quality/ISO Managers to Plant Managers.
Independent Bar Code Evaluation Service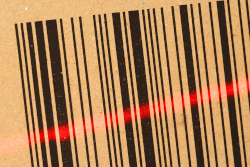 Is that bar code you are trying to produce giving you headaches? Our barcode evaluation service is here to help. Send us your samples and we will provide a complete analysis using our extensive quality inspection equipment. We will tell you the bar code quality and how it can be improved. Our history in the printing business has provided us with years of practical knowledge on improving print quality regardless of the printing method.
Independent Bar Code Evaluation Service Page 
DataBar (formally RSS) Bar Code Seminar
This practical 1.5-hour seminar is designed to provide an understanding of DataBar (formally RSS) bar codes. The seminar is focused on explaining the many different types of DataBar Bar Codes and where each is used. This includes usage in various levels of packaging (pallet, carton, container, and product) in the retail supply chain and pharmaceutical requirements (including FDA part 21).
FREE Depot Verifier Accuracy Testing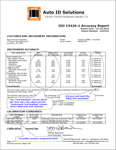 Auto ID Solutions began offering free bar code verifier accuracy testing in response to an alarming rate of out-of-tolerance bar code verifiers arriving for annual calibration service. This policy was aimed helping companies determine the correct interval for recertification and calibration of their bar code verifiers.
Depot Verifier Accuracy Testing Page
Products
Linear Bar Code Verifiers – Linear bar code verifiers from all the ISO15426-1 complaint manufacturers
2D Bar Code Verifiers – 2D bar code verifiers from all the ISO15426-2 complaint manufacturers